Quick Tip
Ready to fill out the form?
Make sure you have the following information handy:
Your Net ID

Your Proctor's Contact Info

The address of the location the exam will take place
* For non ISU exams you will need only your course info and a link to or uploadable version of any proctoring form your institution requires to register ISU as your proctor
Instructors may require your exam to be proctored, or monitored, in a public location. Students are responsible for acquiring a suitable proctor. The Iowa State Testing Center will help facilitate that process and can even act as your proctor for ISU and non-ISU exams. If you do not have access to the ISU testing center, an off-campus proctor will be required. Please note: Students using a proctoring service other than the ISU Testing Center may be charged a fee. Students are responsible for this fee.ISU Test Centers Proctor Form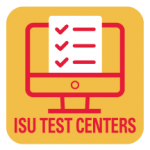 Still Have Questions?
Try our Test Centers Online Help Desk.
The Proctoring Process Explained
Who can act as my proctor?
Accredited university/college testing center

Adult learning centers (Sylvan, Huntington)

K-12 school administrators/counselors

Commissioned military officers

University/county extension

Corporate managers

HR

Clergy

Professional library staff
What should I expect taking an:
Student finds suitable proctor.

Student submits proctor application.

Testing Center will approve or deny application.

Student will be notified via email of approval status within 2 business days.

Exam details and instructions will be emailed to student and/or proctor.
Students on campus taking a course that utilizes the test centers and administers it's exams through Canvas do not need to register to use the ISU Test Centers. They may come to any of the four test center locations to take the exam. Written paper-based exams take place in 2352 Gilman Hall and require an appointment, which must be scheduled in advance. More information about scheduling your exam can be found HERE
Student submits proctor application.

Testing Center will approve or deny application.

Student will be notified via email of approval status within 2 business days.

If approved, student will schedule an appointment to take their non-ISU exam in 2352 Gilman Hall. More information about scheduling your exam can be found HERE